Very much looking forward to hitting the road next month for a brand new project with some dates in England. Info reprinted below from my record label: -MJ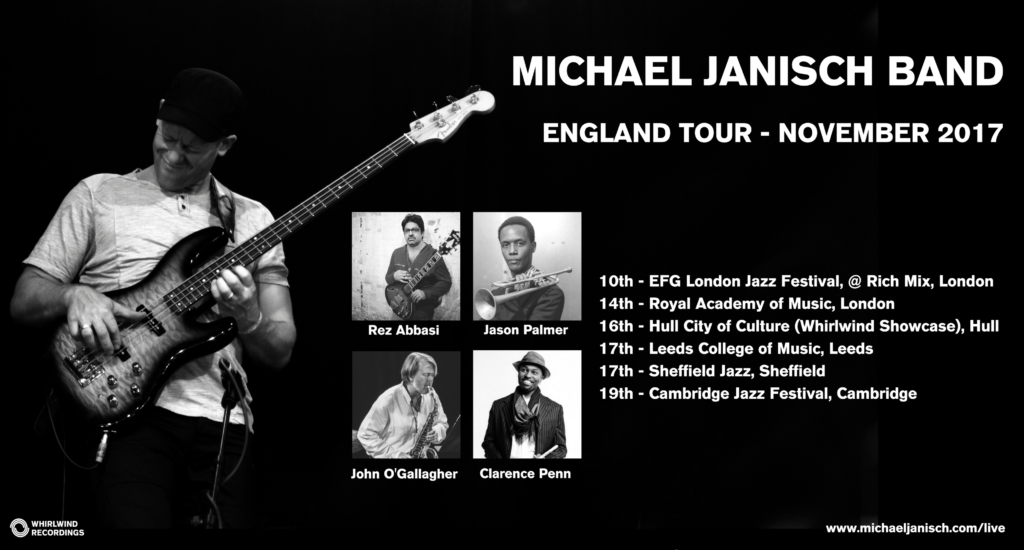 Whirlwind founder, bassist, composer and producer Michael Janisch premiers a new band for their first European tour-date with guitarist Rez Abbasi – one of today's major new voices on his instrument – alongside Grammy-winning alto saxophonist John O'Gallagher (Joe Henderson, Maria Schneider), trumpeter Jason Palmer (Herbie Hancock, Kurt Rosenwinkel) and the brilliant drummer Clarence Penn (Michael Brecker, Maria Schneider).

The band will be recording Janisch's next solo album during the tour.
Tour Dates
November 10 – EFG London Jazz Festival @ Rich Mix, London
November 14 – Royal Academy of Music, London
November 16 – Hull, City of Culture (Whirlwind Showcase), Hull
November 17 – Leeds College of Music, Leeds
November 17 – Sheffield Jazz, Sheffield
November 19 – Cambridge Jazz Festival, Cambridge
Posted on Oct 15th, 2017 by MJ.